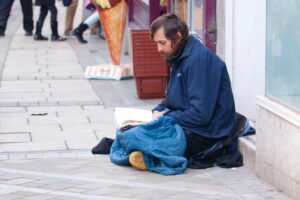 Observing a fountain and watching the water trickle down; imagining being a detective and traversing the city to see its secrets: according to the Daily Jstor, people experiencing homelessness use their free time in creative and inspiring ways.
"Books put me in touch with minds greater than my own that I will never meet," explains one of our reader friends of The Footpath Library. "The Footpath Library is the highlight of my week."
People experiencing homelessness need time for leisure, a fragment in their day where they can relax from the difficulties of life and experience something they love.  It could be a game of basketball or a good book from The Footpath Library.  Leisure provides the necessary pause from the struggles of finding a place to sleep, having enough clothing, getting a meal and the exhausting experience of applying for housing.
"(The National Geographic magazines I get from The Footpath Library) keep my mind invigorated and engaged with positive thoughts," explains another reader friend of our mobile library service.
But it's not just an escape.  Homeless Hub believes meaningful activities such as gardening, kitchen and art programs, and book clubs, can help reduce feelings of isolation and social exclusion, providing an outlet for people experiencing homelessness to redesign where they live. They can decorate their city, create social groups, and grow food around them. They can change their landscape from one of mere survival to a more meaningful and personal socio-space.
By focusing on creating and immersing themselves in activities, temptations like alcohol or drugs can be avoided. Frequent activities help build skills and gives people experiencing homelessness a sense of progression which is great for mental health.
Leisure provides a variety of benefits and it cannot be understated how important this is.
References:
This article was written by volunteer content writer, Tharusha Galagedarage.