Vote for our CEO, Sarah Garnett, in the Westfield Local Hero Awards
We are so proud to announce the nomination of our founder and CEO, Sarah Garnett for
the Westfield Local Hero award. As a finalist, Sarah has the chance of winning one of three
$10,000 grants which will go to funding The Footpath library activities. Please vote for Sarah.
Sarah has been bringing the joy of reading to people experiencing homelessness since 2003. Sarah set up The Footpath Library in Martin Place in Sydney after discovering that many disadvantaged people in our community love to read but have difficulty accessing good quality literature. The Footpath Library also provides coffee and reading glasses and most importantly builds a sense of community with our readers.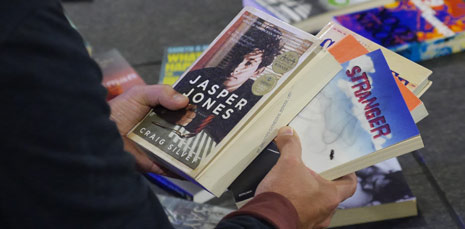 "Society" Short Film
Learn about Homelessness and The Footpath Library in this short documentary.
BECAUSE
People experiencing and at risk of homelessness do not have access to good quality books and do not have regular opportunities to connect with others.
WE BELIEVE
Books have a positive impact on one's mental health.
People experiencing homelessness should be able to enjoy a book to escape, learn and engage the mind.
SO WE PROVIDE
A regular free mobile library service where people experiencing homelessness can meet, access books and connect through conversation.
THAT LEADS TO
People having regular community, someone who cares and being able to build trust with others.
Provide good quality books for free
Provide an opportunity to speak to others
A regular meeting point providing a stable reliable connection point
Outreach program to socially excluded people
Reading is food for the mind & soul…. no matter who you are.